After years of dreaming about checking out the Stahl House, I recently did. And it was everything I could have hoped for. The house is located here in Los Angeles, Hollywood Hills to be precise, where it's been enjoying a beautiful and expansive 270-degree view of the city since it was built in 1959.
The home was originally dreamt up by owner Buck Stahl and then brought to life by architect Pierre Koenig. It was added into the Case Study program, gaining its second name, Case Study House #22.
The Case Study Program was intended to be showcase how affordable homes could be built with readily available materials post-war. Ie, glass and steel, the aesthetic that came to be instantly recognizable as decidedly mid-century modern.
Huge architects were commissioned to design the experimental homes between 1945 and 1966, which in addition to Pierre Koenig included Richard Neutra, Raphael Soriano, Craig Ellwood, Charles and Ray Eames, Eero Saarinen, A. Quincy Jones, Edward Killingsworth, and Ralph Rapson. Most of them are located in Los Angeles, but one is in San Rafael, California and one is in Phoenix, Arizona.
The program had big dreams but it ended up starting and ending with just some of the designs being made into homes. (An organization called Lost Moderns hopes to one day finish them.) As it turned out, those "affordable" homes weren't quite as affordable as they were expected to be.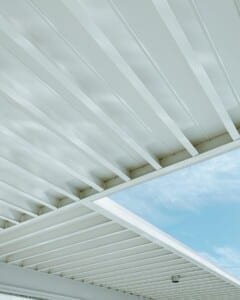 Of the ones that were, the Stahl House is the only one that is open to the public. (With a ticket and reservation.) While the Stahl House is still privately owned by the Stahl family, it's not occupied by the family. The children who grew up there decided that they'd rather not continue to occupy the space. Lucky for us!
As I visited in quarantine we were only allowed to go into the house to use the restroom, but it hardly matters as the entire slim wrapping house is open with floor-to-ceiling windows. There's not even a hallway in it. Traveling between bedrooms or from bedroom to kitchen either requires simply stepping between the rooms, or stepping outside and then back into the house via giant sliding glass doors.
There are a lot of interesting things to be learned about the actual architecture itself (like how it's got on with a completely flat roof), but perhaps most notable are those views.
Standing in the back yard next to the pool it's easy to see from the hills holding the Griffith Observatory, over Sunset Blvd, to Century City. If it was that beautiful in the midday light, one can only imagine what it feel like at night when the city lights come to life, or by sunrise as the city warms up.
Over the years the home has been rented out for shoots and featured in tons of movies, music videos, even a video game. In brief: Corinna, Corinna, Why Do Fools Fall In Love, Galaxy Quest, Nurse Betty, The Simpsons, and even Grand Theft Auto: San Andreas.
The Stahl House was named a Los Angeles Historic-Cultural Monument in 1999, and it was named as one of the top 150 structures on the American Institute of Architects  "America's Favorite Architecture" list.
It's one of mine, too!
All photos by Kate Ferguson.