Over the summer I had the absolutely delightful pleasure of visiting the town of Varenna on Lake Como, Italy, for my brother's wedding. Made even more special by the fact that the wedding had been postponed twice because of quarantine.
Oh how I recall the very last night I went out in L.A. before the lockdown—something had shifted in the air and I worried to my Uber driver, "I have an Italy trip coming up, I hope it happens." She replied "Oh of course it will!" She wasn't wrong, but neither was I. The next day the lockdown was in effect.
Anyway, glad we're past that! Not to be dramatic but the trip was everything I could have hoped for and more. We were in Varenna for about a week before heading to Switzerland, and split our lodging time between a local apartment and the Hotel Villa Cipressi where the wedding was held. Here are some highlights.
Boating on Lake Como
Varenna, Italy was founded in 769 (!) by local fisherman, and then destroyed in 1129 by its rival commune, Como. Allied with Milan, it rebuilt, welcoming other refugees from Isola Comacina. The lake is obviously a central aspect of the community, then and now.
There are a variety of opportunities for enjoying the lake, like swimming, and boating. In addition to riding the ferry to other towns across the lake (like going to lunch in Bellagio), we spent a day in rented speed boats.
This gives you the opportunity to drive around the lake and ogle at villas, many of which, besides being historical and interesting, have been featured in movies like Star Wars and TV shows like Succession.
This also gives you the opportunity to jump off the boat and take a swim, an activity that I highly recommend. I only got a few photos on account of all the swimming, but they're some of my favorite from the trip!
Now, we happened to choose a day to go boating when a storm was rolling in, so let's just say that our ride back to Varenna was not quite as picturesque as the rest of the day. The winds got us good. I would have gladly captured some photos and video to prove just how torrential it was, but no recording device would have survived it. Let's just say it took days for my sandals to dry out. Please follow this very obvious advice—if a storm is due to come in, perhaps wait on your boat ride.
As I mentioned, the wedding was held at the Villa Cipressi, and we stayed there for a few nights. The Varenna villa was built between the years 1400-1800, and as you might imagine, it was incredibly beautiful.
There are a variety of stand alone buildings on the property in addition to the main hotel area. My favorite was the very romantic breakfast room, built of ancient architecture and delicate frescos. (This one is the 1400's build. Beautiful.)
Waiters would whisk out carafes of Americanos, which I'd sip while letting my dreamy gaze fall upon the lakeside palm trees, gently moving with the warm morning breeze just outside of the fully flung open window shutters. No screens here, baby.
Italy is all about a flung open window.
Villa Cipressi is also home to a botanical garden that extends alongs the lake shore. It's possible to visit both the garden and Villa Monastero whether you're staying at Villa Cipressi or not.
Villa Monastero has been ancient convent and a patrician residency. In addition to now being a museum, Villa Monastero is also used as a conference center. I haven't been to every conference center in the world, but I can pretty confidently say that having a conference at Villa Monastero would be like none other.
Hiking to the Castle of Vezio
I took the hike to the Vezio Castle not once, not twice, but three different times. The first time was a semi-failure because we hiked up to see the castle and the castle was not open. We knew this of course, because like any good traveling team we had checked the opening times online.
But my dad had a real bee in his bonnet to beat the heat and start our first day in Varenna with a 6:30 AM wake up call. My jet lag wasn't thrilled but I do appreciate the get up and go mentality. So we hiked.
The second time we hiked up was during business hours. We viewed the castle grounds, climbed up and down a turret staircase or two, and ate at the cafe. I don't remember what I ate so much as how much time I spent dodging the ever present bees—which is just something to know about Varenna. Bees love it!
The castle is also a training grounds for birds of prey. So depending on when you go, you might catch some of that as well.
On the hike up we also stopped by a little jewelry/pottery shop called The Vezio Ceramics, where I got a beautiful ring made by an artist in Greece. This is the only business (that I could tell) on the hike, the rest of the buildings appear to be private apartments and homes.
The third time I hiked back up to the castle was specifically to get more goods from The Vezio Ceramics. Yes, I will hike an incline again and yet again for some unique finds. I got my mom a gift…and two more rings for myself. They're really pretty, okay!
Lunching in Bellagio, Italy
From Varenna you can catch a ferry to other towns around the lake. We went over to Bellagio a couple times for lunch.
Bellagio, or the "Pearl of Lake Como" is where you'll find the more upscale shops, if doing some serious shopping is your thing. Similar to Varenna it has has restaurants tucked back into cobblestone alleys and beautiful gardens and public spaces.
Some of the villas worth visiting in Bellagio are the Villa Melzi, and Villa Serbelloni, the latter of which is currently owned by the Rockefeller Foundation and has 50 acres of parks and gardens.
Dressing Up to Dance the Night Away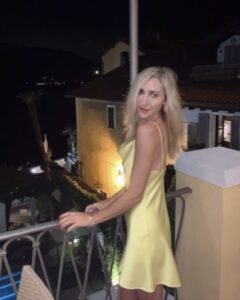 With quarantine and whatnot it had been a while since I had to plan some formal wear. I went to my go to, Revolve. For the welcome dinner the night before the wedding I ended up wearing the Harmony Slip Dress from Alice + Olivia. The yellow color was great and the fit is super cute. Flirty if you will! I was feeling it. Will definitely wear this one again.
Also—this dress packs up real tight, which was an important to me considering the fact that I only brought carry-on luggage for the entire two week trip. After knowing that I can accomplish that I don't feel like I can ever check bags again. We'll see.
For the wedding itself I wore Norma Kamali—huge fan. I ordered a few dresses from her to try and on before the trip and I ended up keeping all of them, that's how great they are!
This one pictured is the Tara Side Drape Gown, and I also got the Turtle Side Slit Gown. (Now I just an occasion to wear that one…shoutout to the universe!) Both of theses dresses have a bodysuit built into them—they're one stop shops. Easy and makes the butt look great.
The Varenna, Italy Dining, Obviously
Fresh fish, fresh pasta, Campari Spritz's. I don't know that you could really go wrong with food in Varenna, Italy although of course some spots are more exciting than others. One thing I really enjoyed about the city was how the restaurants dealt with the steps and amount of space available. The entire town is set in the hillside, so there are steps everywhere.
The kitchens of the restaurants are often in different locations than where the food is served, which means the waitstaff is bringing it up and down the steps. One restaurant that we went to had a few different dining rooms in different locations. The one that we were in was kind of like a stone cave that contained a bar and maybe five or six tables. Unique!
Laying Out by the Lake
I would be remiss if I didn't mention how much fun it was to swim in the lake and lay out on the (somewhat rocky) Italian shore. There are tons of places to access the beach, being that the entire town of Varenna is on the lake. We went to a few different places and I enjoyed every refreshing minute.
One of the days my sister and I went to lay out sans phones and legitimately lost track of time. It was perfectly hot and quintessentially Italian, with locals and tourists alike laying side by side by the shore and on the docks.
This is about around the time that I started feeling a little wistful—I think in the moment I described the feeling as "devastated"—to leave.
Just Simply Being Out of the Comfort Zone
It's not like I have too much trouble getting out of my comfort zone, after all, I just quietly spent a year living in Austin as a strong reset before moving back to L.A. I take classes, I try new things, I put myself out there a lot. But it's a whole different story in another country.
For example:
Despite heaving my luggage up and down staircases and in and out of train cars, and being on my feet all day long, all my back pain and body aches mysteriously disappeared. Note to self: Taking a computer break for yoga or a walk is not enough. Need more computer breaks. Spend more time on the feet.
I do work as a social media strategist (among other things), and the wifi was so bad in so many places that I was having trouble uploading videos. You know what this tells me? The Lake Como locals are not TikTok obsessed. I'm sure a lot of them don't spend much time on social media at all. While I don't feel as chained to the stuff as the spectrum allows, I do kind of take it as fact that it's a way of the world. But you could legitimately move to Varenna Italy and never look at a smart phone again. If you wanted.
Being that this trip was centered around my brother's wedding, there was a lot of family time. I was in high school when my sister was born so it's really only been the past few years that we connect as adults. Ie: go for drinks and talk about real life. We roomed together for two weeks and I loved every minute.