Zermatt, Switzerland is not a town I knew much about, but I visited on the last leg of a summer Europe trip and am very glad I did.
The German-speaking town is located in southern Switzerland's Valais canton, with a year round population of only 5,800. (And then there's the 2 million tourists who visit each year.) It's almost completely surrounded by the Pennine Alps, one of which, is the Matterhorn.
In some ways Zermatt is so low-key that I when I started writing this I thought it might be a quick post. But as it turns out, Zermatt really left an impression on me—and also on one of the most influential people of the 2oth century. We'll get to that.
Some of the photos on this page were shot on 35mm with my Canon AE-1. Others, on my iPhone. One courtesy of Wikipedia.
This post contains affiliate links, which means I may earn a small commission of purchases made using links on this site, at no extra cost to you. 
Getting to Zermatt, Switzerland
I traveled to Zermatt from Varenna, Italy, and it was a rather long day of train travel. I think it took us five trains and maybe ten hours to get there—not that it's supposed to.
This was one of those situations where one train was late, leading to a domino effect of missing other trains. On the way back (to Milan this time), we made it with only two train changes, and I want to say the trip only took five or six hours.
Of course, no matter how long the journey is, train travel is also a really great way to get in some touristing. Train touristing. And the climb into Zermatt gets incredibly beautiful.
Those train window views afford you sights like icy waterfalls spewing from rock wall faces and silky horses traipsing through green pastures, living their best life prancing and playing with magical alpine fairies. (Probably.)
The Town of Zermatt
I'm not sure I've completely processed the vibe of Zermatt. It's a pretty remote location at the base of the Matterhorn mountain, and yet it's bustling with tourists, literally being shuttled to and fro in electric vehicles.
It's a car-free town, so if you aren't walking you're either riding in a souped up golf cart type thingy worth $100k (we asked), or you're hopping into a horse carried wagon. Although you don't really need to catch any rides at all, because you can walk anywhere within 30 minutes.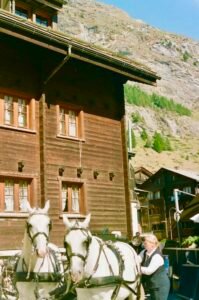 There are only three main streets in Zermatt, which are situated along the banks of the river, called Matter Vispa.
The river was rushing, and unique looking, as it comes from glaciers vs snow melt. Because of that it's a very milky light greenish color. Just walking anywhere near it you can feel the glacier chill.
There are aspects of Zermatt that appear frozen in time, like the design of the buildings, and of course the centrally located cemeteries that house locals and fallen climbers alike.
And then there are the more modern additions, like the plethora of high end jewelry stores lining the town center, reminding you that are in a very specific destination: a luxury ski town.
The town is also at, like, a Disneyland level of homey cleanliness.
There is no trash. Trash ceases to exist. There is no disorder. Disorder ceases to exist.
Everything is one part happy, one part reserved, operating at max efficiency with no funny business.
Flowers bloom in identical window boxes. Every building has a name.
It's no secret that Walt Disney was a fan of the place. He did after all, get his inspiration for the Matterhorn Bobsled ride from the Matterhorn mountain itself. The real Matterhorn is on the border of Switzerland and Italy. Disney's, on the border of Tomorrowland and Fantasyland.
I also wonder if Walt was just simply inspired by the Swiss way of existing—because Zermatt feels like an incredibly well-managed fairy tale town. More on that later.
Just in case you think I'm exaggerating about the put-togetherness of it all, you should know that:
The Swiss civil registrar must approve all baby names—you are simply not allowed to name a baby anything that they deem might harm the kid or offend anyone else. This includes brand names, last names as first names, biblical villains, and…names…of the opposite gender.
The hopeful dog owners of Switzerland are required to take classes before they're allowed to own a pooch of their own.
Cat owners either have to provide their indoor cat with an adequately entertaining window view or welcome home a second cat. (It's only fair.)
Swiss trains are known for being on time, with the German speaking areas being the most punctual. (This is in contrast to other nearby countries where this is not the case. Example: my arrival and departure train trips—very different.)
More on this topic of the local lifestyle when we get to the section about the Edelweiss hike. (I know I'm setting you up with a lot of "more on that later" but I promise, I circle back.)
Before we move on I am going to add one note about those baby naming rules…Switzerland is not totally unique in this. Germany has outlawed the name Adolph Hitler, Denmark has outlawed Anus, and France has outlawed the names Nutella and Mini Cooper. Not a joke. And I agree, probably don't name your kid Hitler, Anus, or Nutella. (Or any combo of the three!) But Mini Cooper is kind of cute, no? It's like the branded version of Minnie Driver.
Okay great. Let's talk about the views of the Matterhorn.
Check out that Matterhorn mountain
According to the guidebooks it can get incredibly socked in around the Matterhorn. So much so that you can't even see the peak of the mountain on some days.
Although I can't relate…we had clear skies and great views for days on end.
And those views were quite spectacular from the place we stayed, the Jägerhof Hotel & Apartements.
The rental was basically an apartment with a full kitchen and three bedrooms. It was a modern alpine style, on the top floor of the building with a wrap around porch, providing a direct view of the Matterhorn.
The Jägerhof was cute and quaint. Plus, they have a breakfast buffet with all kinds of fresh bread and Nutella. (Among other things.) I said don't name your kid Nutella, but eat it? Sure! When in Rome.
In addition to our balcony, another great place to get good views of the Matterhorn is from the Five Lakes Trail.
Hiking the Five Lakes Trail
You've probably seen pictures taken on the Five Lakes Trail in Zermatt. There's a very popular photo spot where you can capture the Matterhorn reflected in one of the lakes, which looks very cool. I however, did not get that particular photo.
My sister and I actually got separated from the rest of the group and missed some of the lakes in entirety.
How did we miss some of the lakes on the Five Lakes Trail? I have no idea. We somehow skipped an hour ahead of everyone else.
Maybe we time traveled. That doesn't seem so unlikely in Zermatt.
What I did see on the hike was a lot of mountain land. It's pretty high up there, so the vegetation is not as dense as in the valley floor. I would recommend preparing with a lot of sun protection. I got a bit of a forehead sunburn, as I had not yet purchased the Matterhorn souvenir hat that I ultimately came home with. (It's nice. Swiss quality, baby.)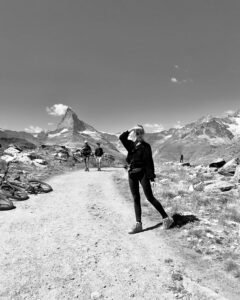 To get to the Five Lakes Trail/5-Seenweg, you take an underground funicular from Zermatt to Sunnegga, and then you hop on the gondola and ride it from Sunnega to the Blauherd cable station, where the trail head of the hike begins. Again, the whole experience is rather Disney. Those two are simpatico.
[Also, that's not as complicated as it sounds. Funiculars, if you aren't familiar, are those small cable cars that go up hills and mountains. I actually just found out that there's one in Los Angeles, and it's the shortest railway in the world. That's a story for another day.]
While all that cable car travel is super fun, my favorite part of the Five Lakes Trail/5-Seenweg hike was definitely walking through the random mountain park.
It contains a swimming lake with a Swiss Family Robin-style wooden raft*, from which you can pull yourself across with a rope. (Exciting!)
Lounge chairs offer onlookers the option to gaze upon the lake and soak up some ultra mountain sun. Happy dogs (with responsibly educated pet owners as the law dictates, no doubt) frolic along the edge of the lake. So quaint.
**I'm sure you can already guess who made the Swiss Family Robinson movie in 1960…Disney. Who else. He's the influenced/influential person I alluded to in the intro.
Disney initially got the idea for Disneyland while hanging out at L.A.'s Griffith Park merry-go-round. But Zermatt has a distinctly Disneyland vibe that I've never felt anywhere else besides Disneyland, which makes me wonder…could he also have been influenced by Zermatt?
Some sources say that Disney first fell into obsession with Zermatt and the Matterhorn while visiting during the 1958 filmmaking of Third Man on the Mountain, three years after Disneyland opened. (waltdisney.org called the film "the best Disney live-action feature that you've never seen.")  However, other sources say that Disney was already a frequenter of Zermatt, as he liked to ski there. I'd like to go with theory number two please, because there are some striking similarities.
Zermatt is: completely surrounded by mountains, there is only one way in and one way out. As mentioned, it is car-free, but features gondolas, trains, and carriages; it is mysteriously clean, happy, and quaint with pristine functionality. There are no visible offices or doctors or anything that isn't just a happy looking log cabin or sleek something that unassumingly melds into the background.
During the Folklore Festival, 30 groups dress up in classic outfits and dance and play music while walking through the downtown—which includes playing the Alphorn, which of course you might see being played at Disneyland or Epcot. Even the graveyard is like, an attraction? (Hello Haunted Mansion.) There are cats. I could go on. But mostly it's just the vibe, and you have to trust me on that if you've never been.
It could, of course, also just be a coincidence and explain why Disney liked the place so much.
After spending the day marching around on the Five Lakes Trail and my endlessly pondering the Disneyland similarities, we were a bit worn out. So of course we got up the next day and did what anyone would do.
We took another hike.
And then on day three, we took another hike—the Edelweiss* hike.
***"Edelweiss" is of course, also a very famous song from The Sound of Music, which I'm shocked wasn't a Disney production. But Disney can take some credit for getting Julie Andrews being cast in that movie. He saw her in a play and cast her in Mary Poppins, which Robert Wise, the director of The Sound of Music then saw and said aha! That's my star. Also, Disney later acquired 20th Century Fox, so technically Disney does now own The Sound of Music. 
The Edelweiss Hike
It actually took us a couple days to find the Edelweiss trail.
(I wouldn't say that the wooden signage is always the easiest to follow. But then again there are only so many options so worst case you just make a loop, meet some random—well-behaved—cats along the way, and then try out a different direction.)
The Edelweiss hike had been repeatedly referenced to us as a quick 30 minute one. Great, that sounds perfect for a day three hike option when one is already sore and tired. But when we did ultimately end up on the Edelweiss trail we discovered that it goes right up the side of a mountain.
Sure the first leg of the trail might only be one mile in each direction, but the ascent is 3920.604 feet at a 41% incline. (I didn't want to round down and lose any dramatic effect.) It's not that hard, but it's not, like, a quick walk.
Is Zermatt existing in multiple realities or something?
Anyway. When you get a mile up into the sky, you will be met with a restaurant/lodge called the Trift Guesthouse, and one little barrel planter out front containing those promised Edelweiss flowers.
The view, as you might imagine, is pretty nice. (See photo for somewhat representation that doesn't at all do the view justice.)
Fun fact: it's not possible to drive up there to the Trift Guesthouse. Whether you're a guest or an employee. Let's process this for a moment from the side of running a business. Everything up there has been carried up the trail. My dad theorized that this was why they seemed to be hard selling the home brewed tea over other branded refreshment options.
The man that served us our food explained to us that he and his family just live there for the entire summer season. No use commuting to work! They don't have a TV, or even use a radio. He warned us of the dangers of social media, and suggested that god is his main form of inspiration.
This is why I said that I would return to the topic of the local lifestyle when we got to the section about the Edelweiss hike.
Who needs music when you can just exist among the sounds of extreme mountain top silence? No frills. No distractions. Just flowers.
The Food
My sister and I started researching the food in Switzerland while we were still in Italy, because it was a little distressing to leave Lake Como's fresh fish and pasta behind and we just wanted to be prepared for whatever might come.
The internet had some pretty terrible things to say about Swiss food, but I'm here to say that it was totally fine and good. Nothing was amiss, of course!
We even went to a sushi restaurant (owned by an Italian), that was designed like a boat and had a hot tub on its rooftop.
Activities in Zermatt
We did check out a few local attractions in Zermatt, which included the museum downtown. Some of this museum is dedicated to the history of the town itself, while much of it is about the climbing industry, then and now. There's a bit of controversy around all of this—and a feud if you will—because it was a Matterhorn climbing tragedy that first put Zermatt on the map at all.
Prior to the Matterhorn madness it should come as no surprise that Zermatt was a mostly an agricultural community. But the first ascent to the peak of the Matterhorn made big news in 1865 because four of the seven men died. So what did the people of the world do when they heard this terrible news? They came running towards it!
The controversial part is A: the guides who survived were accused of cutting a rope to save themselves. (They were acquitted.) And B: Some people say it should have never happened at all, others say well hey tragedy or not, they basically made this town what it is: a super popular ski town with a mountain that's taken the lives of 500 alpinists. (A family friend's first husband is one of them.)
All of this makes the quaint Disney-ish peacefulness of Zermatt so very interesting. In some settings that mountain might feel like a looming danger, but in the fresh, flowery alps, it's just, *with a soft smile on your face* so beautiful.
In addition to visiting the museum, my sister and I also visited a bar in town, which according to the bartender, is much busier in the winter. This was actually a three-story bar (with a rock-walled club down below), and my sister and I were nearly the only patrons on the entire second floor, two nights in a row.
And then, of course, if it isn't already obvious, one of the main activities to do in Zermatt is…go hiking!
I got A LOT of wear out my Retro Rag & Bone Hiking Sneakers. These worked great for this type of hiking, and they also do well as in the style department. I get about as many compliments on these shoes as I do on one of my personal favorites, a thrifted 80's leather jacket.
If I went to Zermatt again I'd probably rotate a spa day into the mix. Or maybe go back to that sushi restaurant and actually get into the rooftop hot tub. It would definitely be during the winter…I would have to see what the busy snowy season is like. According to the bartender, winter is peak Zermatt.
Overall, I had a really lovely time.
It's worth noting that by all votes and considerations of what makes a country happy, Switzerland has been ranked number one. This year it was #4, but it's consistently very high up there. (The U.S. is #17.)
Is Zermatt one of the happiest places on earth? Ask Walt Disney.