I've been talking with Rédouane Ramdani about the Snipfeed app for some time now. I was first introduced to the app upon being contacted as a creator who might be interested in using it. I was really intrigued by the concept of the app —which at that point was generally described as an AI-generated app for consuming quality content — and soon set up another time to interview Rédouane, and share that here.
We did the full interview in July, and then recently caught up about the app's latest updates. It's time to share some of them!
The Snipfeed app is essentially aiming to create a home base for creators to share their content, and to simplify consuming the content for fans/followers/readers/etc.
The questions of where social media is going, and exactly what we should be focusing on are common considerations these days. There are new social platforms, and new ways to monetize.
But jumping from place to place to chase the latest trend isn't necessarily a sustainable option. It gets tricky to send followers from social media to websites to shoppable platforms to Patreon to podcasts. Etc, etc. Or wherever else someone might be creating content.
That's crazy for creators (unless you're like Gary Vee and have a team), and it's crazy for consumers who like to keep up with certain people but don't have the time to follow their digital path around all day.
At the end of the day, creating authentic content is always the best option. And in the near future, we'll be seeing more options for supporting that as a viable option.
How Snipfeed Works
Snipfeed is an online profile that will groups together different social platforms and forms of monetization in one place.
For a creator, this would mean being able to share your Instagram posts, YouTube videos, podcast episodes, blog posts, paywall content, etc…onto one single profile page. Automatically.
This means getting around the current state of algorithms, (including the Google search one), having the option to gamify content, test out different forms of content, get feedback from fans, and having one place where all of the different channels can seamlessly intersect.
It also means being able to make money off more content, right away. Monetization options include setting up paywalls and grouping content into subscription-only packages, as well as making available tipping options on totally free content.
For the consumer, this means being able to follow the people that you really want to follow, and to get timely updates about all of their different content releases. It means ease, fun, transparency, and actually being able to communicate with the people creating and putting out that content.
Where the App Originated
The Snipfeed app was initially conceptualized by students who were then at UC Berkeley, but it was initially developed in a very different format. The AI search software was first created as a tutoring software as a part of a Machine Learning course project, by Pierre-Habté Nouvellon ( now CTO), Rédouane Ramdani (CEO), and Anas Bouassami (COO).
The product got accepted by an accelerator and quickly grew to thousands of daily users – who were particularly loving the app's push of short news, facts, and quizzes. (Which they called "snips.")
Enter the birth of Snipfeed. In its second incarnation, the app focused on a broader set of news and information. In addition to making valuable suggestions, the software was also able to weed out fake news, making it extremely different than any other social media feed.
Pierre-Habté Nouvellon has said that "Snipfeed is the missing piece in the puzzle between traditional media, influencers, and learning platforms."
More recently the team moved the startup to Los Angles, which gave me the chance to sit down and speak with Rédouane Ramdani a couple of times, who dove deeper into the idea between the app.
"We had kind of stopped consuming the media we liked because our attention got so focused on sites like Instagram. We were really interested in the fact that this generation wasn't really searching online, but preferred snippets of content delivered right to their phone…our core goal was that we could build something that was like a living organism that could interact between the user and the content itself, rather than having it all live separately."
How Snipfeed Will Be Used
As a personal example, Rédouane mentioned how if someone was looking for an article about a local art show they might end up reading something on the LA Times, as it would rank high in whatever search they might be using.
But with Snipfeed in the picture, if someone read an article about that art show, the app would suggest an article from a site like this (right here, Divvy Magazine), understanding that while those are very different sized publications, people who like art might like this site too – and therefore increase the odds of building real connections, views, and community for the right reasons. It's a win for both sides.
Anyone can apply to be a creator, which falls on the media side of the platform and gets all the perks of distribution on the platform. However, most of the users will be consumers and are under no obligation to be putting out content to get what they want out of the platform.
Rédouane explained that "right now, there is too much pressure on people to create content…but not everyone is a content creator. I like posting a couple of pictures but I'm not a content creator. The problem right now is that your content is going to be mixed with huge platforms and big influencers, but actually separating it out and allowing people to observe as non-creators can be a better experience.
We wanted to create a safe place where people won't wonder about what's fake news or where it came from. That's why we think younger people aren't using Facebook. The transparency is so important."
When you look at a creator's profile you'll be able to see everything they've published before, and how many points they have on the platform, which is intended to show legitimacy. (Sort of like Reddit's karma.)
The content on Snipfeed goes way beyond makeup tutorials and celeb news, although all that will be there too. Snipfeed is also aiming to deliver breaking news and political content in a way that makes it easy to access and understand.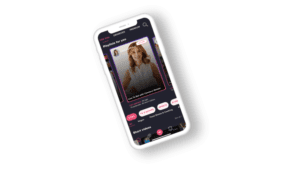 "We're separating out political content so it's easy to see what's liberal, what's conservation, neutral, international – and being able to jump between those differing opinions and understand that they are in fact differing opinions and where that information actually comes from."
Advisors at the Snipfeed app include Andy Wiedlin, the former SVP of Sales at Huffpost and CRO of Buzzfeed, Puya Vahabi, an AI professor at MIT and Berkeley, and Eric Schiermeyer, Zynga and MySpace cofounder. Weidlin also advised at companies like Bleacher Report, BuzzFeed Japan, FunnyorDie, Inverse, MagnetMediaFilms, Mic, Nativo, and NowThis.
Click here to enroll as a creator on the Snipfeed App.