Innovative brand Virtual Super Land is merging fashion and tech in a highly interactive way. The L.A.-based VSL uses green screen technology and an app to place moving filters on their capsule streetwear collection. (As well as anything else that's that right color of green.)
Not only does the app allow you to see a mixed reality when viewing the green items, but you can take photos and videos of the result. It's a must-see.
Their recent clothing line release also includes accessory collaborations that work with the app as well. We spoke to Orsolya Szabo (pictured), who co-founded the company with Natasha Smith, about creating the concept, the technology necessary to pull it off, and getting the capsule coll
ection into Fred Segal.
So tell me about the inspiration for this line…
A healthy mix of things we like and necessities to do with the brand. For example, as the app works with the color green, we're always mindful to include green in interesting ways on the clothes, so it's aesthetically pleasing even when you're not using the app.
We wanted to include QR codes on almost every item to echo the concept of using your phone's camera to transport you to another reality. We constantly play with (the idea in philosophy) of Hyperreality- we're taking the idea of living in a simulation onto another level by creating a very obvious and tangible other reality you can record and experience over and over.
The QR codes take you to the Virtual Super land app on the App Store when scanned with your phone's camera. We like to include a mix of extremely clean fonts mixed with futuristic heavy text. We also use a lot of crystals and imagery of natural objects, again to highlight that disparity between real and hyperreal, but also because we like crystals.
I have a statue my grandmother gave me she got from Greece and he's been heavily used in a lot of our pieces. He's very stoic. The crystals and statue we photographed and Natasha converted them into files we can actually use and place them on clothes as you'd placing objects on a screen.
What did it take to bring this concept to fruition?
In short, a lot of hustle, grit, hope, and hard work. Self-belief where possible, and just pushing forward even when nothing was seemingly happening and no one really understood our concept of easily conjoining tech and fashion by using green screen. That was really hard.
Eventually connecting with friends like Samira (Base Communications + Consulting) who also believed in our vision and helped push us to the next level, she's been instrumental.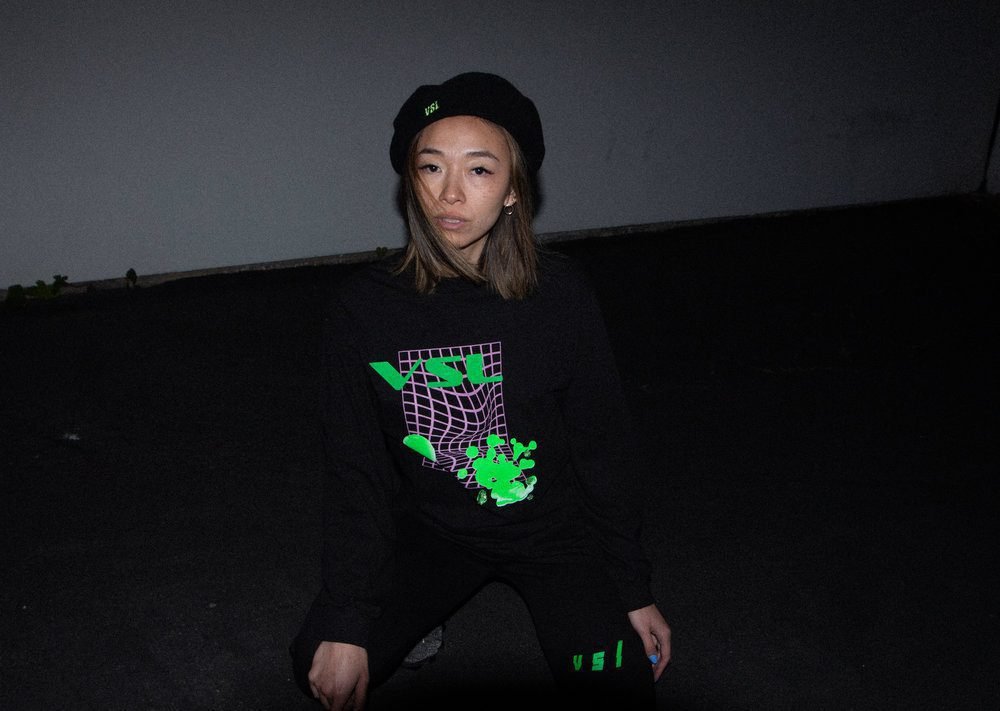 How does the app work? 
It's very simple. It works with the tech of chroma key (green screen). The phone's camera detects any green in your environment and removes it, replacing it with one of the custom filters. You then hold the shutter to record a video, or tap once for a photo, either sending straight to Instagram stories or saving to your camera roll.
At the moment we have 6 interchangeable filters, but we're changing the app soon to be cloud-based (like Instagram's filters) so we can update them easily and quickly. Technically it's a mixed reality app, not AR. Green is used (as it is for green screen) because it's the furthest color from any skin tone. It's also one of our favourite colors (luckily!) as well as the color of the heart chakra.
What do you love about streetwear?
How easy it is to wear. I've always felt ultimately comfortable clothes make getting shit done easier. Also how it's unisex and accessible. It's versatile.
Did you have prior experience in fashion and tech?
I was previously Fashion Editor at the Evening Standard in London where I styled, creative directed and produced cover shoots for celebrities and main fashion. I also had my own fashion column. I was there for nearly 8 years. I carried on styling after I left alongside starting VSL.
I taught myself UX Design to do the (very initial in-app designs), but generally, just have always been a geek about tech stuff (watching Apple launches and getting excited to figure out computers, etc lol.)
Both Natasha and I taught ourselves how to use editing software like Premiere Pro to initially make fun fashion videos. Natasha honed these skills and really focused on teaching herself software that aided us in creating graphics (still and motion) we wanted to see. She is now fully versed in after effects, illustrator, and Cinema 4D. That's really helped our aesthetic evolve as our abilities have.
The line is sold in Fred Segal right, can you share a bit about how that came to be?
Yes! We initially launched as a pop up in the front space of the store which feels like a dream to even type. They really let us build and harness what the brand represented. Luckily, they were just the best people to work with.
We did a party at Spring Place at the beginning of the year which was our first green screen (or any) event in collaboration with singer Pauli the PSM, whose music video I styled. I put him in a green top and the director (Rohan Blair-Mangat) suggested I do my 'VSL thing'. So I keyed out any green and put our graphics there instead (this was pre-app).
At that point, we had the UX design of the app, and we'd been selling a couple of t-shirts but nothing really. His video really was this first encapsulation of our concept with the app and our clothing in synergy. It really cemented the idea in this space of concept brand at the intersection of fashion and technology.
When we presented that to Fred Segal (shout out Ashley!) they just got how disruptive it is to have two girls working in these spheres of streetwear and tech, two arenas not really open to us, and luckily just got it and gave us a chance.
She was like..this space is free in just over a month, can you make the app, produce a 20 piece collection with accessories + design and execute the build-out?' It was the craziest month of our lives but we did it. We're eternally grateful for how she believed in us because it really wasn't about hype or Instagram numbers, she just liked the idea and understood what we were trying to do.
And there are some accessory collabs as well. Do you have a favorite item?
Yes !! We actually made some dream collaborations happen. We've always wanted (ok I, have always wanted) a phone case and Casetify agreed to collaborate with us which really was a dream come true because I've been obsessed with their cases forever.
We now have our own design on a neon green sand Virtual Super Land case which is so dope. We always wanted our own green nail polish and got in touch with Orly who've opened their new color labs space in L.A. (you can mix your own color) and we worked with them on our custom neon green VSL Polish. We also got together with L.A. based swimwear designer Mai Mia who made a custom green one-piece and bikini for this Fred Segal launch. All our collab pieces key out perfectly!
In addition to collaboration pieces, we had items within the pop up from Krink Nyc (green pens), Luv AJ green jewelry, Zen Den crystal candles (Usher bought like 3), and custom keyrings. We also have VSL bucket hats and berets. Oh and stickers. You gotta love a sticker.
Amazing. What's next for you? 
Turning the whole world green! We're really excited about pushing forward with collaborations and working with brands, people and organizations that we can extend our custom concept to. We're in a unique position at having so many layers to the company – we're content creators, custom graphic makers, with a buyable streetwear arm and a functioning app that can house a new way of seeing any physical product that's green.
We're looking forward to utilizing this. We're having some interesting meetings right now and moving forward with looking for investment, so looking forward to that whole new challenge!
Read more: Manon Planche is Designing the Fearless Clothes that Dreams are Made Of