Wera Jane Designs is creating unique, handmade lampshades in Germany, which range from painted metal to Italian cotton woven.
I caught up with designer Jane about the inspiration behind her work as well as how long it actually takes to make one of those 70's inspired beauties.
Tell me about your business and getting into lampshade design.
My mother, who studied art history and graphic design, made me work on being cultured; teaching me to have a thirst for "knowledge," which is what I attribute my level of creativity to today. I've been working in a creative environment since I was a kid.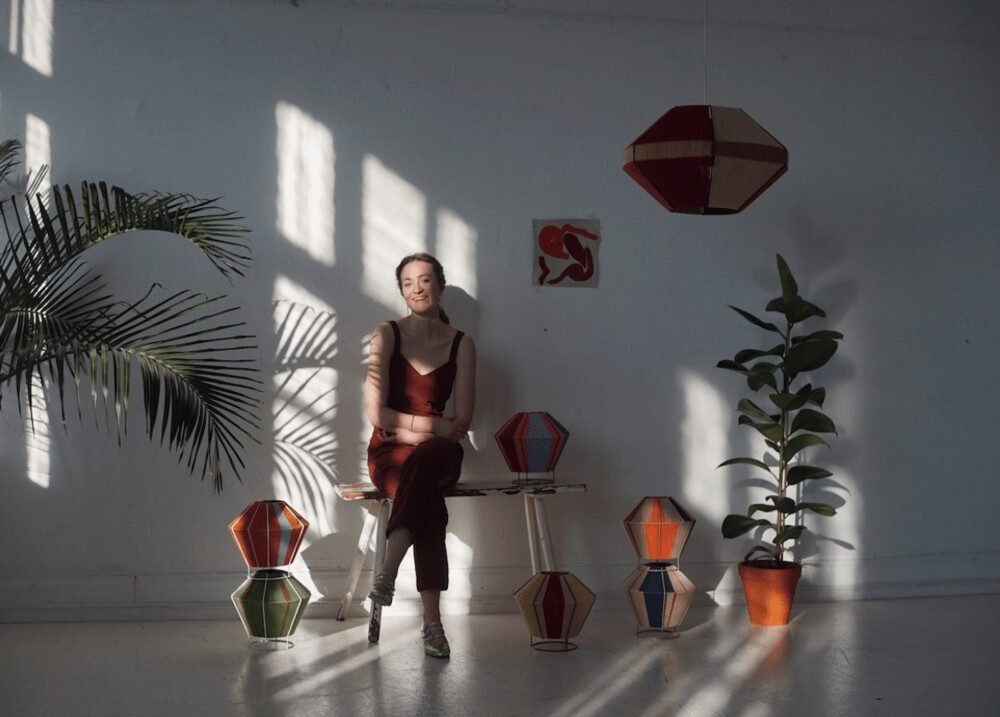 I grew up between my father's studio and my mother's artistic literary world. I owe my open-mindedness to them. They're the ones who shaped my artistic eye.
I studied archaeology, but then took a break and traveled through Eastern Europe. Soon after I decided to take the time to focus on what I really want to do. That actually includes photography projects, drawing, singing and of course my lampshades.
Do you listen to music or anything while you work?
The last weeks I´ve been listening to Cotton Jones, Allah- las, and Brian Jonestown massacre a lot. My go-to snack is always chocolate 🙂
Tell me about the actual lamp making process and the materials you use. How long does it take to make each lamp?
Depending on the size of the lamp, it takes up to 20 hours to make one. But it's always worth to see what I created, and the best part of it, to see the lamp hanging in a home.
What inspires your designs and color choices?
I grew up in a neighborhood surrounded by vintage furniture shops. Spending days in these shops and getting to know the owners, who told me about the history of some pieces, but also showed me shapes/designs I've never seen before. I started to think about how I would sketch my own designs and use different material instead. I found some old lampshades from the 70's, they used really poor material such as plastic so instead, I tried it with yarn and that's how Wera Jane Design really started.
Does living in Germany influence your design?
I've been living in Leipzig my whole life but lived in different cities over the years.
Sadly I don't really get so much more inspiration here, that's why I'm thinking to move to California in the next months.
Who is your average customer?
Most of my lamps sell to New York, often design studios ask for a custom-made lamp. Something special for me was when my grandmother bought one of my lamps a few weeks ago. 🙂
Do you make other types of art?
I'm a passionate singer and at the moment I'm recording my EP with my best friend.
What's next for you?
At the moment I'm on vacation and for the first time, I traveled around the world to California. I fell in the love within 24 hours.