Buying pre-owned clothing is obviously a more sustainable option, thanks to the fact that it cuts down on the need to manufacture new garments, as well as reduces carbon emissions, waste, and saves water. Even buying clothing new that has been produced sustainably can go a long way towards cutting down on your personal footprint.
Below are some great places to shop sustainable fashion in Los Angeles.
1. Ziran
Los Angeles-based brand Ziran creates sustainable 100% hand-dyed silk items…that are pure gorgeousness. The line features silk jackets, tops, pants, and dresses that are perfect for stylish (and feel-good) layering in the L.A. weather. (Be sure to check out our full interview with Kelly Shanahan about starting the line.)
2. Alternative Apparel
L.A.'s Alternative Apparel is located in Venice and sells sustainable clothing from a few different brands. This is the place to go when basics are on the shopping list. Think soft, colorful tees, activewear, and accessories.
3. Reformation
Reformation sells its own line of clothing that they make from vintage fabrics. In addition to clothes, they also make swimwear and shoes. It's pretty hard to beat ethically made leopard print bikinis.
Reformation has six different stores in California, four of which are in Los Angeles. (Two of them are located right on Melrose.)
4. Re/Done
We're kind of obsessed with Re/Done. They're not only sustainably reselling vintage denim, but they're remaking it into perfection. All their jeans are cut and fit uniquely, meaning no one will have the exact same pair.
Re/Done is doing big things when it comes to sustainable fashion in Los Angeles, but they're also just doing big things for jeans in general.
5. Any Vintage or Resale Shop
Another great way to shop sustainable fashion in Los Angeles is hitting up the vintage and resale shops. Los Angeles is full of them.
Crossroads Trading is one of our favorites, but we also love the flea market at Fairfax high. (Which takes place every Sunday, rain or shine!) Crossroads buys and takes items on consignment, as long as their trend.
What that means for you as a shopper, is finding some great deals on just lightly used items. (If not brand new items entirely.)
Bonus:
Free People for the Sustainable Activewear
Free People launched three unique activewear styles made from ECONYL, a sustainable, innovative yarn developed in Italy. This new addition is a step the brand is taking towards a more sustainable future.
Tell
Hey Free People! Tell me about the new activewear.
ECONYL is a 100% regenerated nylon fiber made with discarded waste collected from landfills and oceans (think: fishing nets and fabric scraps). The material is identical to virgin nylon and can be recycled, recreated, and repurposed infinitely. The result? Game-changing styles and a smaller energy footprint. ECONYL allows new products to be made without ever having to use new resources.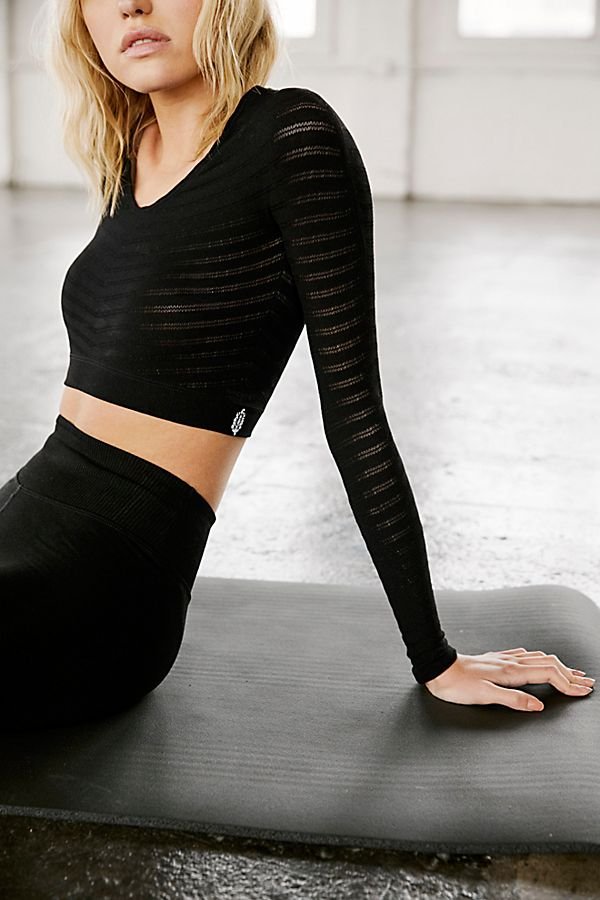 Wow. How does that work?
The material is created in three steps: first, waste is salvaged from landfills and oceans all over the world, then sorted and cleaned to recover as much nylon as possible. After, through a regeneration process, the nylon waste is recycled right back to its original purity.
The nylon is then processed into textile yarn for cutting-edge activewear styles, like Free People's very own trio of eco-friendly styles. For every 10,000 tons of eCONYL raw material, 70,000 barrels of crude oil are saved, and 57,100 tons of CO2 eq. emissions are avoided. It reduces the global warming impact of nylon by up to 80% compared with the material from oil.
Free People Movement is excited to add these new styles to the collection just in time for spring. The brand is celebrating the launch by donating 1% of all Movement purchases to non-profit partner Girls Inc. Girls Inc. inspires all girls to be strong, smart, and bold through direct service and advocacy.