Cristen Stefanelli started creating essential oil blends for friends and family before expanding into The CEleStial Healer. She now creates custom blends for clients, using the knowledge of both science and intuition to offer support for healing, protection, guidance, and harmony.
I spoke with Cristen about getting on this path, her process, and different ways to use the essential oils.
Tell me a bit about your background and interests—what was the path towards starting The CEleStial Healer?
As a highly sensitive person I am always drawn to things that activate and regulate the senses. I often say that everything I do has an element of sensory activation to it. I've worked as a stylist/ adorner for people and interiors for the past 10 years and I am able to use my intuition and feeling when dressing people & places. It's sort of like another sense for me.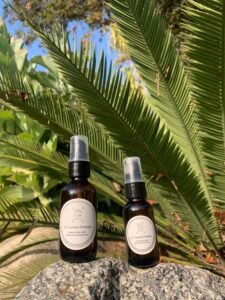 The CEleStial Healer came about because I became obsessed with oils and studying them/ experimenting with them. I would make custom oils for my family and friends. While working in the fashion industry this was an escape and a spiritual, channeling experience for me. I was able to use my knowledge, guidance & insight to create formulas for others and provide healing/comfort.
I loved the process and I loved the feedback of the magic of the oils. I began creating a line about two years ago, I wanted to share my gifts with the world, once I became serious about it, I got pregnant with my daughter and I couldn't smell anything without feeling ill, a couple months in and I had a craazy sense of smell so my daughter,  Májamè really inspired me and guided me to finish my 11 formulas that I launched with.
What is the process when you're working on a custom creation, do people usually have something specific that they're seeking support for?
For custom oils (my favorite process) I have a 15-30 min conversation with a client about what they are looking to heal, manifest, work through or anything they'd like to utilize the oil for, whether it be physical or emotional. Usually people do have a few specific things that they'd like to assist with, emotionally or physically. I also do oils for hair, beard, skin care, parfum, or anything else the client would like. I make oil sprays as well.
From there I use my knowledge of which oils would assist and I bring myself into a creation/clear space and the alchemy works itself out. I can really pick up on a person's energy when I am in that space of connection, creating and channeling something for them and when it feels right, I know it's right.
What's the importance of therapeutic grade oils?
I only use therapeutic grade oils. The reason for this is because Essential oils work on our body on a cellular & molecular level. The way that the smells activate our brain is through the two olfactory bulbs, it is the most direct interface between the brain and the outside world. This sends off electrical impulses, most directly affecting the limbic system, which is the oldest part of the brain and it is home to our emotions.
So when we use essential oils that are pure grade and not OF the plant, which has become popular in the perfume industry the oils are able to heal and activate the body and cells rather than just being a scent experience, usually the ' of the plant' oils are also not pure and may have other additives in them as well, they are made in a laboratory. All of the oils I use for my products are 100% organic & sustainable purely from the plant.
Is there a right way to use the products?
Absolutely there is a preferred way for everyone but there are many ways to use them. The products should always be shaken as the oils separate. If you are using an oil, I recommend rubbing your hands together, creating some heat, smelling and then putting it wherever you'd like on your body.  There are certain areas of the body that act as receptors and allow the oil to penetrate into the bloodstream easily, such as, forehead, temple, behind ears, neck, shoulders, heart, wrists, feet & spine.
With the sprays, you may spray them directly on your face as a spritzer or in your hands, to smell, experience & activate your senses. The sprays may also be used for rooms or any other space. I also like to put a few drops of the oils in a healing bath with salt.
What about incorporating them into a meditation practice?
I like to refer to these oils as ritual, meditation, or any other personal practice tools. There are a couple of oils that I usually recommend for meditation…
Anointing—as it is a daily protector, it consists of highly spiritual and ritualistic/ ceremonial oils.
Oracle—this is a spray that opens up the feminine, receiving, and intuitive spaces. It is used for intuition and clarity.
Another oil that I like to use in meditation when I am needing to release unhealthy cycles or energy is Clænsian.
Solfeggio Spray— this is great for clearing the space and your aura before or after meditation.
Where should someone start if they're brand new to oils?
If someone is brand new to oils, I usually recommend a 1/1 with me or to check out the ingredients/ descriptions on the website and choose an oil & spray that they are feeling drawn to…we usually know the things we need.
Do you have any favorite go-to's of your own?
I really love all of the formulas and use them as needed for their different properties and characteristics.
My all time favorite and inspiration for the line is Anointing, but I love the sensuality and power in Venus, it is such a delightful smell. I use my Glow serum every day and my skin really thanks me for it.
View this post on Instagram